St Joseph's Catholic High School acknowledges that the school is situated in the Dharawal Nation, traditional home to the local Wadi Wadi peoples.
Here at St Joseph's, we take pride in promoting Aboriginal Culture and Awareness, and unite together to welcome the Aboriginal Community into St Joseph's School Community.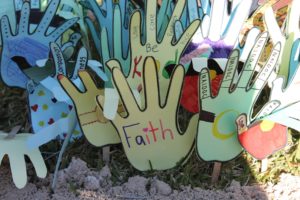 The hands represent the educators within our communities. These hands are responsible for providing a supportive and culturally inclusive learning and teaching environment for Aboriginal and Torres Strait Islander students. Parents place their children in the hands of the educators.
Pope John Paul II in his speech to the Aboriginal and Torres Strait Islanders people in 1986 made this statement:
"The Church herself in Australia will not be fully the church that Jesus wants her to be until you have made your contribution to her life, and until that contribution has been joyfully received by others."
---
ATSI News 2016
Indigeneous Newsletters 2015