St Joseph's Uniform Expectations
When accepting enrolment at St Joseph's students and their parents/carers agree to support the School Uniform Policy. Parents are expected to support the school in monitoring and maintaining the correct wearing of the St Joseph's uniform and to insist on the maintenance of high standards of personal grooming and presentation. Commitment to this parental support was made at the time of enrolment.
The wearing of the correct school uniform aims to:
create a greater sense of belonging and equality among the student population

ensure comfort and safety

support students to present themselves in a positive professional manner for their learning

assists our young people in understanding that a responsible life involves doing what you ought, NOT what you want

build a school-wide sense of community, identity and responsibility to the community

assist in preventing behaviours, such as harassment and bullying where everyone, despite their background is an equal

develop self-discipline and builds character that is not relying on external items for identity

sets clearly defined boundaries for adolescent behaviour which are essential in developing a sense of right and wrong, as well as balance and perspective in life

prepares students for the world of work with regulations around appearances

promote a positive image of the school in the wider community
Students should:
have good personal hygiene, including, regular showering, hair washing and use of personal deodorants

wear their correct uniform to, from and at school daily

ensure uniforms are to be labelled, cleaned, pressed, properly repaired and worn correctly at all times

ensure they have a signed permission note in their school diary from their parents/carers if not able to be in uniform and only for short periods of time until the item can be appropriately acquired

permission notes are to be shown to and signed by their homeroom teacher during homeroom.
The school uniform and it's presentation has been developed in consultation with the whole school community; students, parents, PALS, support staff and the Leadership Team.
The Leadership Team are the final arbitrators on any decisions regarding the appropriateness of any aspect of uniform.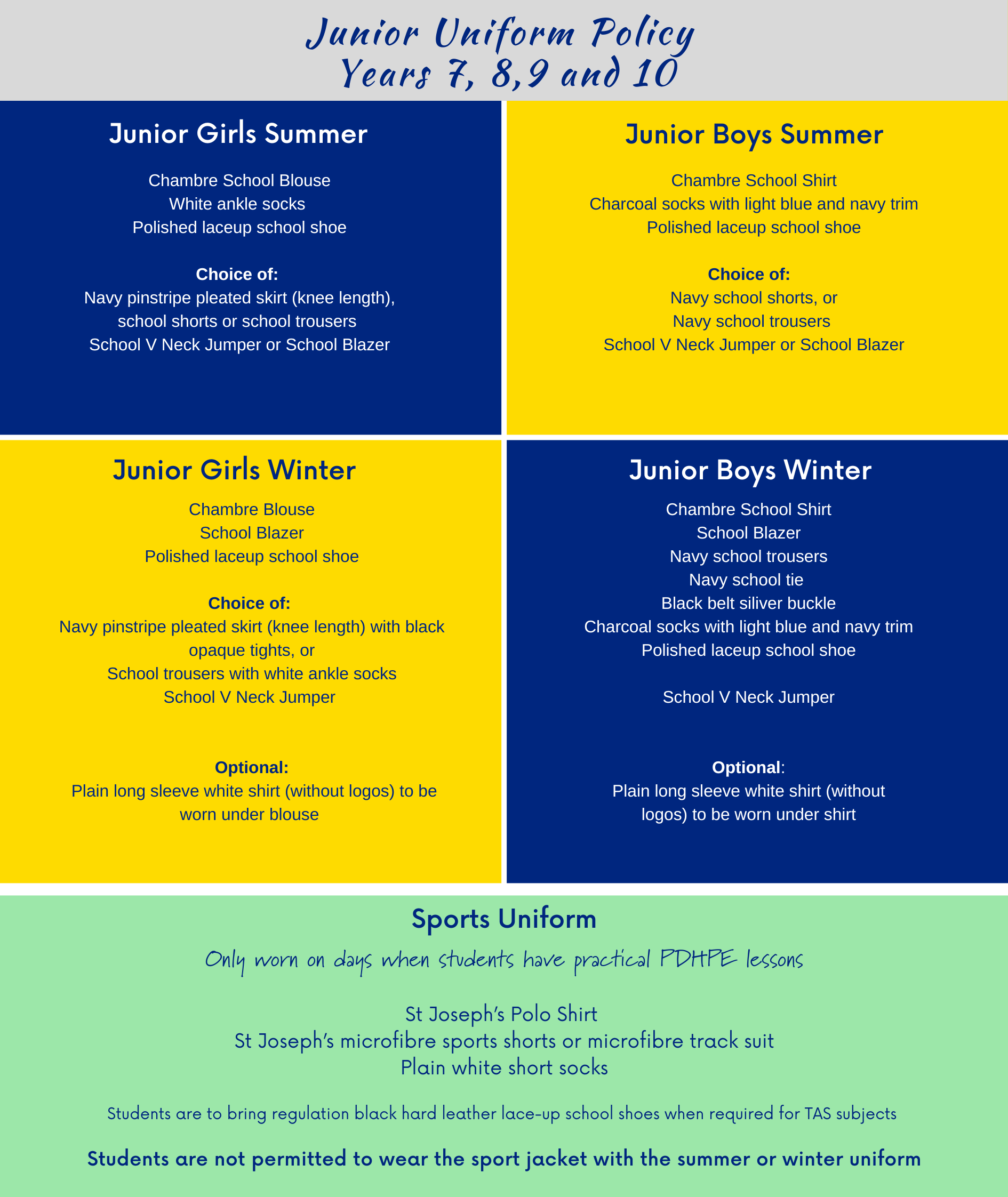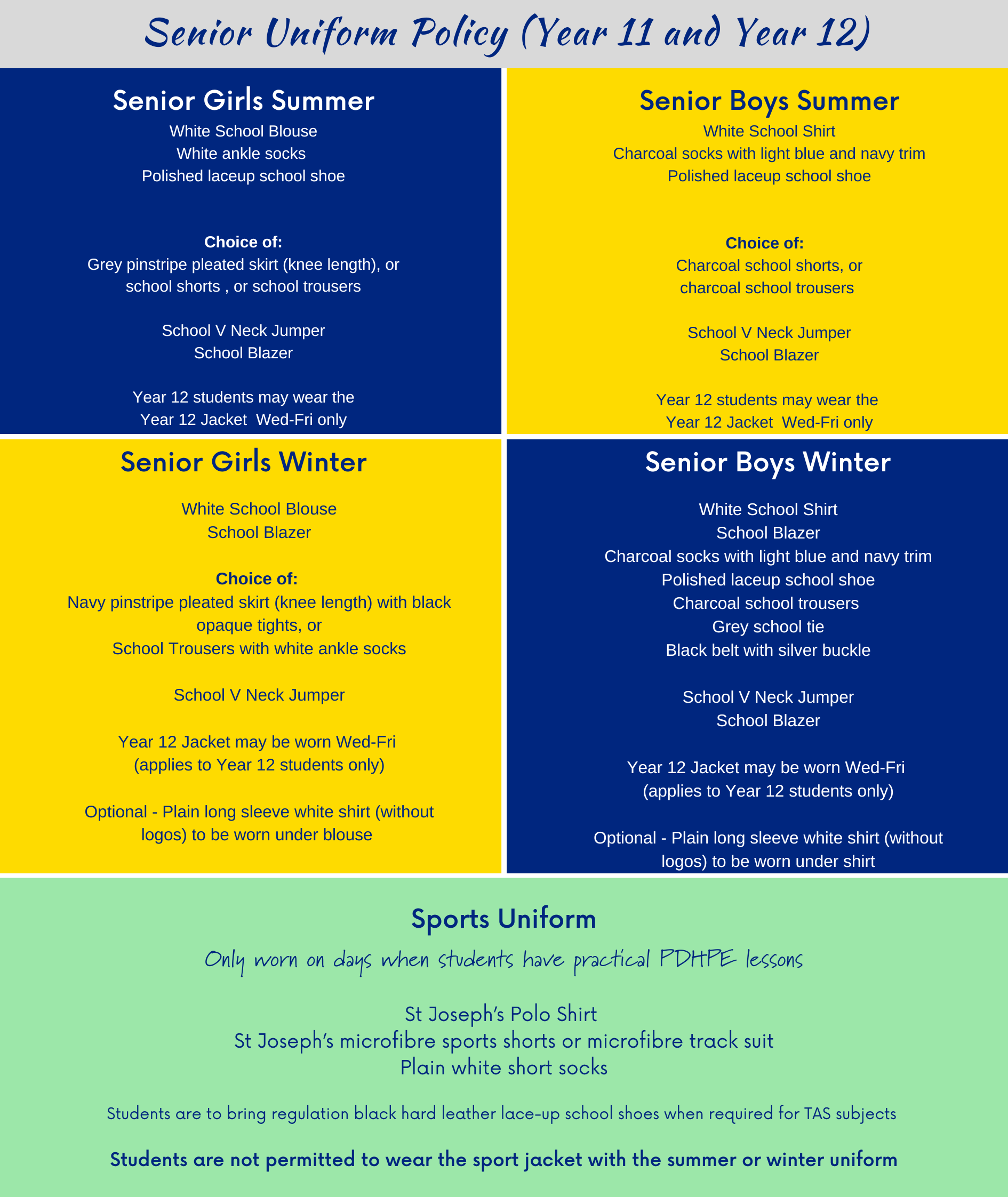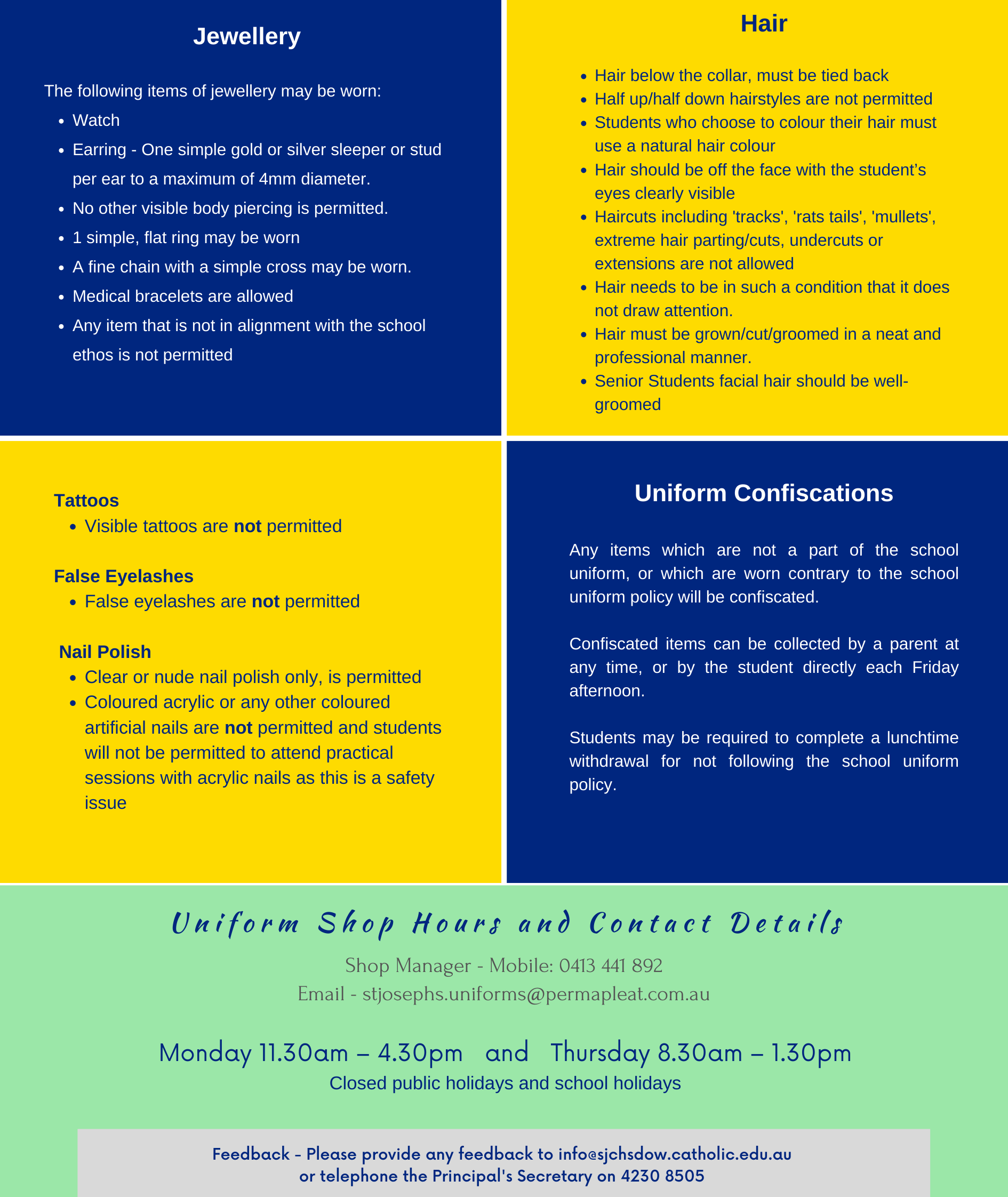 School Shoes / Sport Shoes
School Shoes and Sport Shoes – Permitted
School Shoes and Sport Shoes – Not Permitted
Uniform Shop – Perm-A-Pleat
The Uniform Shop at St Josephs Catholic High School is operated by Perm-A-Pleat. The Uniform Shop is located on the school grounds via the Macquarie Street entrance.
Normal Trading Hours
Monday 11.30am – 4.30pm
Thursday 8.30am–1.30pm.
The uniform shop is closed during school holidays and on public holidays.
Our uniform store is maintaining safe COVID19 practices.
There is a limit of 4 customers in the store at one time and parents will be asked to wait outside to maintain this safety measure.
Preferred method of payment is by card.
Online Ordering
If you have previously been fitted and are aware of your sizing requirements, you can order your uniforms online:
Online Ordering is now available – click below

Online Appointment booking – click below

How to register for an online appointment – guide
School Uniform Price List